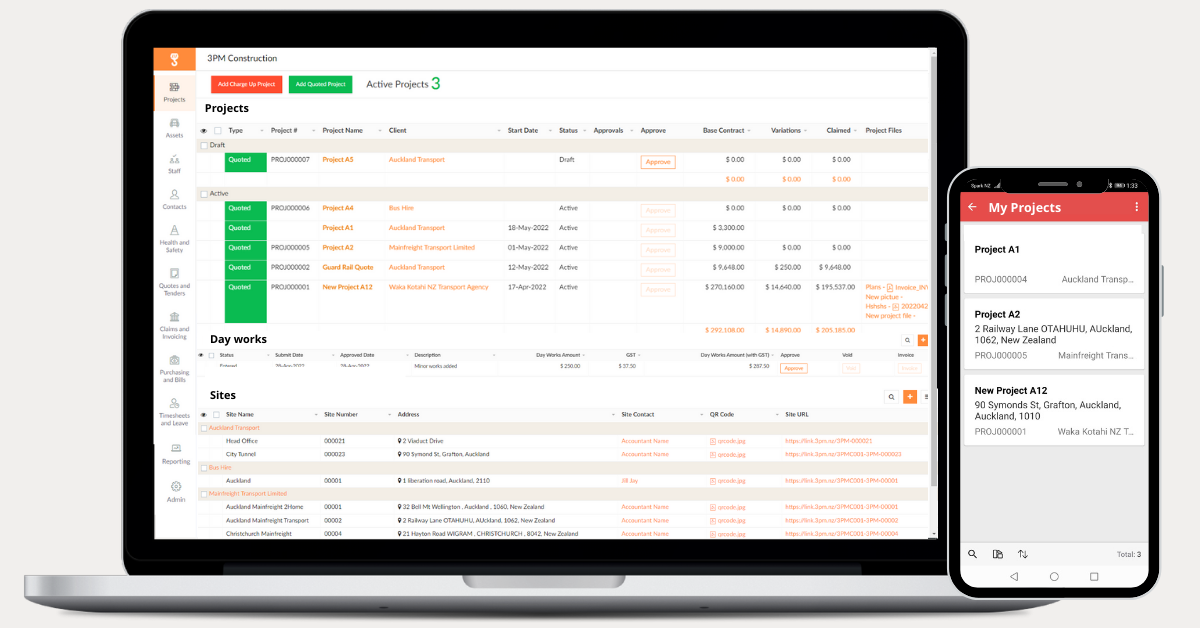 Track Jobs and view all projects at a glance

A quick-view dashboard gives you full visibility of project finances and status, as well the jobs and activities across various sites, approvals and claims.
Manage Staff and Resources
Easily see what staff you have available, their competencies and certifications. Assign them to jobs and track timesheets, while also controlling their access to portal features.
Oversee and Maintain Assets
Manage asset details, performance and servicing plans, and track the live locations of your vehicles, plant and tools as well as who they've been assigned to.
Organise Clients, Suppliers and Subcontractors
Control a single database of contacts and stakeholders. The portal offers seamless integration with NZBN, and syncs to your accounting software, so quotes, tenders, purchase orders, bills and payments are consolidated centrally.
Manage Health and Safety
Gain a complete overview on the health of your compliance system. Track trends and performance, enter and monitor plans, update records and manage reports, checklists and documentation.
Expedite Quotes, Orders and Requests
Create, review and submit quotes, generate tenders using supplier quotes, approve purchase orders and track all payments, retention and variations, as well as material receipts and job dockets.


Manage Claims and Invoices
Gain an overview of claims, variations, invoices and retentions to date across each project. Input and update retention plans, approve or submit requests out in the field or offsite.

Track Offsite Staff
Our timesheets module allows your staff to log their time, receive jobs and update tasks, apply for leave, update their use of plant hours and more via the app, while supervisors can access and approve timesheets, assign jobs and leave.
Complete visibility of your business
See how your projects, expenses, cashflow or day-to-day operations are tracking by customising your reporting dashboard so you can have an overview of what matters most.